What's New
Commodity prices declined in the second quarter of 2015

July 22, 2015 -- Most commodity prices declined in the second quarter of 2015 due to ample supplies and weak demand, especially in industrial commodities. One exception was the price of crude oil which rebounded early in the quarter but has since weakened owing to a still large global surplus. These trends are expected to persist for the rest of the year, with a modest recovery in 2016. Read more
Global Macroeconomics
Weekly Brief: While negative rates in Europe may help boost lending and exports, they could also have some adverse consequences for financial stability... (July 24, 2015) Read more

Commodity Markets Outlook: Analysis of key commodity markets, prices, and price forecasts (April 2015).

Financial Market Outlook: Analysis of global financial market trends and a forecast of capital flows to developing countries (June 2014).
Global Economic Monitor
Daily Brief: July 31
GEM | Latest Brief | Archives
Outlook Data
Economic forecast, 2012-14:
Commodity:
Migration:
Economic simulations:
Topics
Developing countries face tough transition in 2015.

Prices of most commodities, particularly oil, are expected to remain weak, says the latest Commodity Markets Outlook.
In a report, the World Bank examines medium- and long-term forces influencing the global economy.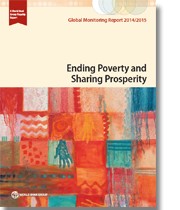 Annual Bank-IMF reports on progress toward the Millennium Development Goals (MDGs).
Global Monitoring Report 2014
Full Report | Web site | Press | Feature Story
Global Monitoring Report 2013
Full Report | Web site | Press | Feature Story
Migration and Remittances Brief 24
Remittances growth to slow sharply in 2015, as Europe and Russia stay weak; pick up expected next year.
Tools for country strategies and policy analysis