What's New
Ending Poverty and Sharing Prosperity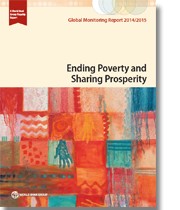 October 7, 2014 -- The Global Monitoring Report 2014/2015: Ending Poverty and Sharing Prosperity introduces the WBG's twin goals and presents the first account of the challenge of ending extreme poverty and promoting shared prosperity. Read more
Global Macroeconomics
Weekly Brief: Remittances to developing countries are on course for 5.0 percent growth this year. (Oct. 17, 2014) Read more

Commodity Markets Outlook: Analysis of key commodity markets, prices, and price forecasts (October 2014).

Financial Market Outlook: Analysis of global financial market trends and a forecast of capital flows to developing countries (June 2014).
Global Economic Monitor
Daily Brief: Oct. 23
GEM | Latest Brief | Archives
Outlook Data
Economic forecast, 2012-14:
Commodity:
Migration:
Economic simulations:
Topics