What's New
Global economy is at a disconcerting juncture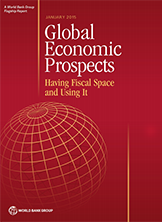 January 13, 2015 -- Having grown at an estimated 2.6% in 2014, the global economy is at a disconcerting juncture, according to the World Bank's Global Economic Prospects (GEP) report, released yesterday. Read more
Global Macroeconomics
Weekly Brief: In large middle-income countries, cyclical factors, policy tightening and political tensions have interacted with a trend slowdown in productivity growth. (Jan. 23, 2015) Read more

Commodity Markets Outlook: Analysis of key commodity markets, prices, and price forecasts (October 2014).

Financial Market Outlook: Analysis of global financial market trends and a forecast of capital flows to developing countries (June 2014).
Global Economic Monitor
Daily Brief: Jan. 27
GEM | Latest Brief | Archives
Outlook Data
Economic forecast, 2012-14:
Commodity:
Migration:
Economic simulations:
Topics
The global economy is still struggling to gain momentum.

Prices of most commodities, particularly oil, are expected to remain weak, says the latest Commodity Markets Outlook.
In a report, the World Bank examines medium- and long-term forces influencing the global economy.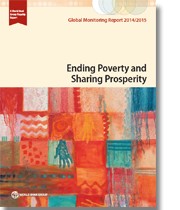 Annual Bank-IMF reports on progress toward the Millennium Development Goals (MDGs).
Global Monitoring Report 2014
Full Report | Web site | Press | Feature Story
Global Monitoring Report 2013
Full Report | Web site | Press | Feature Story
Migration and Remittances Brief 23
Remittances to developing countries to grow by 5% this year, while conflict-related forced migration is at all-time high.
Tools for country strategies and policy analysis