The World Bank monitors international economic and financial trends, regional issues, and major commodities to construct a consistent view for the world economy and the implications and risks to growth in developing countries. The global outlook is released twice a year through Global Economic Prospects. More timely short-term monitoring of developments are issued through Daily Briefs and Focus Topics.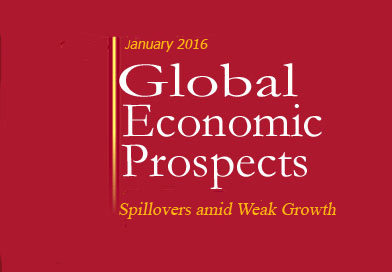 Global growth disappointed again in 2015, slowing to 2.4 percent, and is expected to recover at a slower pace than previously envisioned, says the January 2016 Global Economic Prospects (GEP).
Forecasts and short-term monitoring
Global Economic Prospects Jan 2015
The global economy is still struggling to gain momentum as many high-income countries continue to grapple with legacies of the global financial crisis and emerging economies are less dynamic than in the past.
Daily, weekly and monthly updates on macroeconomic indicators, analysis of economic news and global trends and review of com-modity price movements.
Data and analytical tools
Forecast Data
Reviews of commodity markets and prices, along with price forecasts, that are important to growth in developing countries.
High Frequency Data
Updates on high-frequency developments impacting the global environment for growth among developing countries.
Industrial production
Inflation
International trade
Interest rates
Exchange rates
Equity markets
TOOL: iSimulate
A free platform for economic simulations, allowing analysts anywhere in the world to access some of the World Bank's macroeconomic models